Otto sotto un tetto. Come i costruttori si sono divisi il mercato truck in Italia nel 2022
Nell'anno appena concluso sono stati immatricolati 21.155 veicoli, che se confrontati ai 20.610 del 2021 producono un incoraggiante +2,6%. Ecco come sono distribuite le quote di mercato.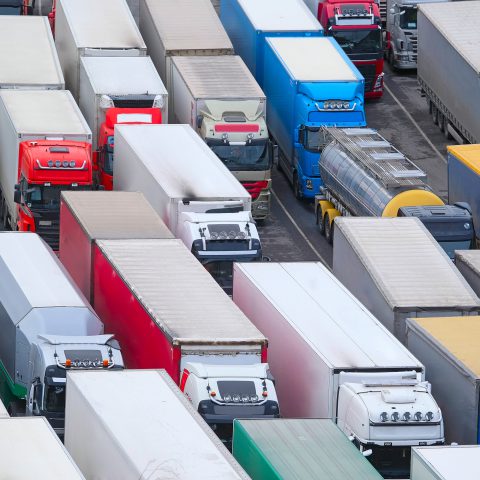 Il 2022 è stato un anno molto complicato per parecchi settori economici in Italia, e l'autotrasporto non ha fatto eccezione. Ciò nonostante, il mercato dei truck in Italia ha chiuso con un piccolo ma significativo segno 'più' per quanto riguarda le immatricolazioni di veicoli pesanti con massa totale a terra superiore a 16 ton. Nell'anno appena concluso, caratterizzato da problemi non banali nella fornitura di componenti chiave in fase di produzione e da tempi di consegna molto dilatati, sono stati immatricolati 21.155 veicoli, che se confrontati ai 20.610 del 2021 producono un incoraggiante +2,6%. Sulla base di questo dato, delle statistiche disponibili e dei dati forniti dalle Case attive in Italia, Vado e Torno ha elaborato le sue consuete stime, che trovate contestualizzate in un articolo dedicato sul numero di gennaio della nostra rivista, qui.
La composizione del mercato truck in Italia nel 2022
A guidare la classifica delle quote di mercato è naturalmente il costruttore di casa, IVECO, che sconta tuttavia un calo del 13,5% rispetto al 2021, con una quota di mercato che passa dal 33,1 al 27,9 e sfiora, ma non raggiunge, i 6.000 truck immatricolati. Piange anche MAN, che perde quest'anno una posizione nella classifica, passando dal sesto al settimo posto per via del -20,8% da imputarsi anche alle difficoltà – forse più gravi che per altri costruttori – nella catena di approvvigionamento e produzione, dovute alla guerra che ancora si combatte in Ucraina. Proprio lì, infatti, MAN realizzava i suoi sistemi di cablaggio, e non è stato semplice trovare una soluzione alternativa.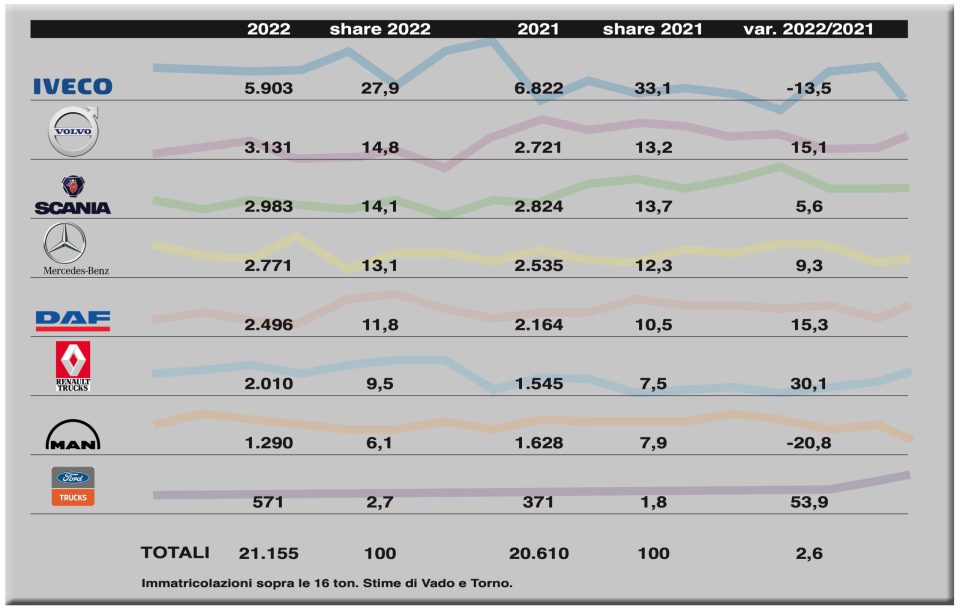 Come mostra chiaramente la classifica, i segni 'meno' terminano qui. A ridere, nell'anno appena conclusosi, è senza dubbio Renault Trucks. I francesi guadagnano una posizione proprio a scapito di MAN e sono il sesto costruttore in Italia. +30,1% rispetto al 2021, superata quota 2.000 veicoli immatricolati e due punti percentuali guadagnati. Restando nel Gruppo, il 2022 è stato un anno buono anche per Volvo Trucks, che supera i connazionali di Scania nelle gerarchie arrivando al 14,8% di quota di mercato grazie a una crescita nell'ordine del 15%.
Da Scania fino a Ford Trucks, tutti col segno più
Cresce, peraltro, anche Scania, ora sul gradino più basso del podio, che passa da una quota di 13,7% al 14,1% sfiorando le 3mila unità immatricolate. Quarto posto per Mercedes-Benz Trucks, in aumento del 9% rispetto al 2021 e ora in 'possesso' del 13,1% del mercato in Italia. Seguendo la classifica, va molto bene il marchio DAF, con la nuova serie XG appena premiata con il Sustainable Truck of the Year 2023 che aiuta il marchio olandese a guadagnare il 15,3% in un anno.
Resta in fondo alla classifica, è vero, l'ultimo arrivato sul mercato, Ford Trucks, presente effettivamente solo dal 2020 ma in grande crescita (53,6%), sebbene su numeri più ridotti. Sono 571 i truck immatricolati nel 2022, che hanno permesso a Ford Trucks di superare i 1.000 truck messi su strada dallo sbarco in Italia. La quota di mercato sale al 2,7%, in linea con le previsioni di crescita del management, che dovrebbero portare il Marchio vicino al 5% nei prossimi anni.