Sustainable Truck of the Year 2023: premiati DAF, Mercedes e Ford. Rivivi l'evento
Ad aggiudicarsi i premi sono stati il DAF XG Plus 480 nella categoria Tractor; il Mercedes-Benz eActros nella categoria Distribution e il Ford E-Transit nella categoria Van. Il video dell'evento e le motivazioni della giuria.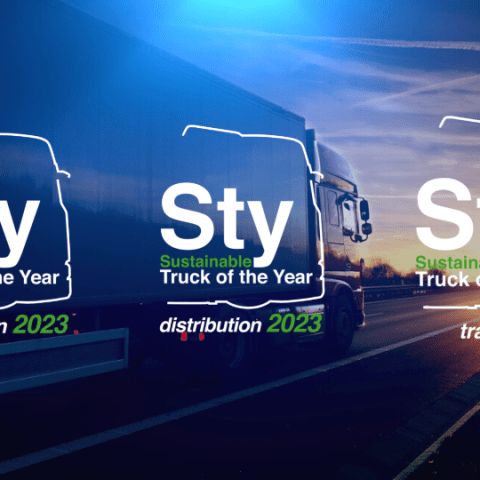 Si è svolta nella serata di giovedì 22 dicembre la cerimonia di premiazione del Sustainable Truck of the Year 2023, l'evento europeo che ogni anno premia i veicoli commerciali per le loro caratteristiche di efficienza e sostenibilità. L'evento è stato trasmesso su Go-TV (canale 229 della piattaforma Sky) e sui canali web e social di Vado e Torno e Sustainable Truck&Van, le due testate che, coinvolgendo una giuria specializzata, attribuiscono i premi annuali.
DAF, Mercedes-Benz e Ford tra i premiati
Ad aggiudicarsi i premi sono stati il DAF XG Plus 480 nella categoria Tractor; il Mercedes-Benz eActros nella categoria Distribution e il Ford E-Transit nella categoria Van. A ritirare il premio sono intervenuti, rispettivamente, Paolo A. Starace, Amministratore Delegato di DAF Italia; Maurizio Pompei, Amministratore Delegato di Mercedes-Benz Trucks Italia e Marco Buraglio, Direttore Veicoli Commerciali di Ford Italia. Qui il video dell'evento di premiazione:
Alla cerimonia di premiazione è intervenuta anche Raluca Marian, direttrice della sede di Bruxelles e responsabile della politica europea dell'IRU, l'International Road Transport Union, che ha sottolineato come la disponibilità di veicoli tecnologicamente avanzati e più sostenibili possa contribuire ad affrontare la questione cruciale della carenza di autisti. «Entro il 2026 ci saranno circa 2 milioni di autisti in meno in Europa. Tra le principali cause del problema c'è il fatto che i giovani non trovano più questa professione interessante. Avere a disposizione veicoli meno inquinanti, più digitalizzati e tecnologicamente avanzati può aiutare i giovani ad avvicinarsi a questo lavoro», ha detto Marian.
Il Sustainable Truck of the Year, giunto quest'anno alla settima edizione, assegna riconoscimenti in tre categorie: Tractor, per camion con portata fino a 44 tonnellate; Distribution per veicoli a due o tre assi fino a 26 tonnellate; Van, riservata ai veicoli commerciali con peso fino a 3,5 tonnellate. Per la valutazione dei veicoli in gara, la giuria prende in considerazione 40 parametri tecnici suddivisi in 6 macro-aree: motore, trasmissione, sicurezza, comfort, connettività e sostenibilità. Anche quest'anno, due categorie su tre hanno premiato veicoli completamente elettrici.
Sustainable Truck of the Year 2023: i vincitori. DAF XG Plus 480
Inedito nell'approccio e nelle forme, il DAF XG Plus 480 sfrutta il nuovo Regolamento Europeo in materia di sagoma limite che consente l'allungamento della cabina, purché avvenga nel rispetto di alcune condizioni quali la sicurezza del conducente e degli altri utenti della strada. Migliorate così le prestazioni aerodinamiche, ridotti consumo di carburante ed emissioni di CO2.
Frutto di un progetto che mette al centro efficienza, sostenibilità, sicurezza e benessere dell'autista, e che pur facendo tesoro dell'esperienza con la Serie XF è partito da un foglio bianco, il DAF XG Plus 480 ottempera a ognuna di queste condizioni. La cabina allungata di 160 millimetri all'anteriore e 330 millimetri nella parte posteriore, unitamente al parabrezza inclinato di 3 gradi e a un attento studio dei flussi dell'aria, ha consentito di migliorare la resistenza all'avanzamento a beneficio di un Cx ridotto del 19%.
Importante anche l'upgrade per ciò che riguarda la sicurezza. La superficie vetrata del parabrezza aumentata del 33% e quella dei finestrini laterali del 15%, unitamente all'innovativa linea del cruscotto Vision caratterizzato dall'elegante inclinazione verso il parabrezza, e a contenuti quali il Corner View (in luogo dell'antevisore e dello specchio di prossimità), il sistema di specchi digitali (telecamere con bracci ripiegabili), ma anche la Vision Door (la finestra nella porta sul lato passeggero), contribuiscono ad affermare nuovi standard in tema di visione diretta, alzando l'asticella della sicurezza.
Distribution: Mercedes-Benz eActros
Il primo truck elettrico Mercedes è disponibile alla clientela in due versioni, con moduli di 3 o 4 batterie, ciascuna di 112 kWh di capacità installata. Ciò significa accumulatori da 336 o 448 kWh, che al Mercedes eActros assicurano un'autonomia di marcia prima della ricarica rispettivamente fino a 300 e fino a 400 chilometri. L'eActros presenta un'autentica chicca tecnologica che ne caratterizza e distingue il progetto come nativo elettrico: il truck adotta, infatti, un assale posteriore elettrificato che integra due motori capaci di sviluppare una potenza di 400 kW di picco e 330 kW in continuo abbinato alla trasmissione a due rapporti.
Soluzioni che, combinate con le tradizionali doti e qualità dell'Actros in tema di robustezza, affidabilità, funzionalità, ergonomia e comfort a bordo, sia durante il viaggio così come nelle pause di riposo, fanno dell'eActros un autentico leader tra gli elettrici. Non ultimo, alla sostenibilità e a un superiore livello di comfort, assicurato nel caso anche dall'assenza in cabina di qualsiasi riverbero o rumore fastidioso, eActros affianca, come tradizione nella filosofia e nella storia del costruttore di Stoccarda, una ricca dotazione di Adas a beneficio di un più elevato standard di sicurezza.
Van: Ford E-Transit
Il Ford E-Transit parte da una solidissima base, quella del veicolo che, dal 1965 a oggi, ha scritto la storia del marchio dell'Ovale Blu nel settore dei veicoli commerciali, divenendo lui stesso icona e assoluto punto di riferimento. Oggi la proverbiale robustezza, l'affidabilità, la versatilità che gli deriva da una gamma ottimamente strutturata sono state trasposte da Ford anche nella versione elettrica di questo autentico best seller.
Prodotto nello stabilimento turco di Kocaeli – dove non a caso l'elettricità deriva al cento per cento da fonti rinnovabili – l'E-Transit è certamente la punta di diamante del marchio Ford Pro, brand globale dedicato ai clienti dei veicoli commerciali. E la sua forza è di presentarsi con una vera e propria gamma. Trazione posteriore, motore elettrico alimentato da batterie agli ioni di litio da 68 kWh, E-Transit si propone con due potenze (184 e 269 cavalli con 43,8 kgm di coppia) in tre lunghezze (da 5.531 a 6.707 millimetri), due altezze di tetto (medio e alto) e complessivamente in 25 versioni. In tutti i casi riccamente equipaggiate, e con un'autonomia di marcia dichiarata fino a 317 chilometri.