MAN presenta il prototipo di un nuovo camion elettrico e accelera le strategie per la transizione energetica
Mentre la Casa del Leone annuncia l'arrivo di un nuovo mezzo (la cui produzione verrà avviata nel 2024), il Gruppo Traton punta i riflettori sui sistemi a batteria e sulle celle a combustibile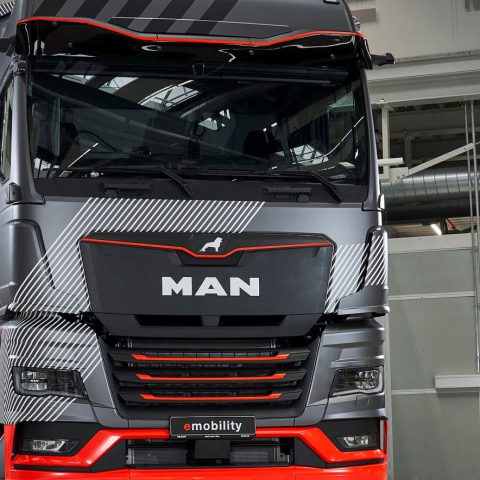 Man Truck & Bus è tornata a parlare di transizione energetica. E lo ha fatto in pompa magna, invitando ad un evento organizzato a Norimberga rappresentanti della politica, del mondo scientifico e dell'industria per presentare un nuovo camion elettrico di serie e illustrate le strategie aziendali legate alla produzione di sistemi a batteria e allo sviluppo delle soluzioni per l'idrogeno. Durante l'evento, in cui è stato lanciato lo slogan "The Future starts now -­ We pave the road to Zero Emission" (Il futuro inizia ora -­ Apriamo la strada verso le emissioni zero), l'amministratore delegato Alexander Vlaskamp da una parte ha ribadito la necessità di potenziare l'elettrificazione dei veicoli pesanti, dall'altro ha sottolineato la necessità di migliorare il supporto ai clienti, attraverso soluzioni digitali integrate e offerte di ricarica.
Vlaskamp ha anche annunciato che i primi 200 e-­ truck saranno costruiti all'inizio del 2024. I camion elettrici usciranno quindi dalla linea di produzione presso il principale impianto di mobilità elettrica di MAN a Monaco. Inoltre, il valore aggiunto per i veicoli industriali elettrici sarà l'assemblaggio interno dei pacchi batteria. Il messaggio è chiaro: MAN sta accelerando verso la transizione a forme di propulsione prive di combustibili fossili e si sta preparando per il futuro senza emissioni del trasporto merci e passeggeri.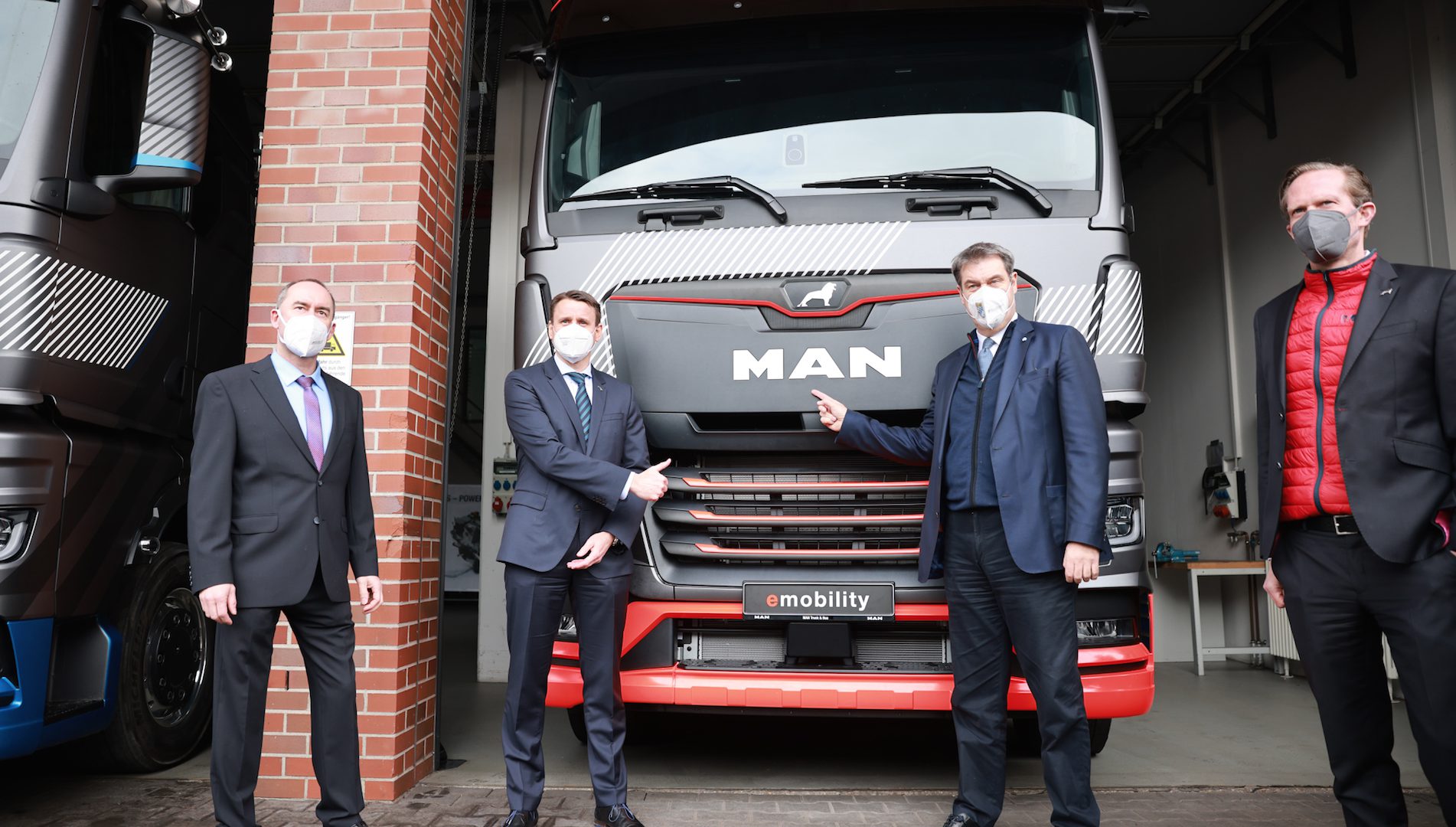 MAN, strategie a 360 gradi per la transizione energetica e l'e-mobility
Le strategie di MAN per la transizione energetica includono anche un ulteriore rafforzamento delle competenze nel campo della tecnologia dell'idrogeno. Lo stato della Baviera finanzia il progetto di ricerca "Bavarian Fleet" nell'ambito della propria strategia verso l'idrogeno e accelera così lo sviluppo delle competenze. Il finanziamento ammonta a 8,5 milioni di euro. Per il progetto Bayernflotte, MAN sta sviluppando un camion a celle a combustibile insieme ai suoi partner industriali Bosch, Faurecia e ZF. Il veicolo sarà consegnato a cinque clienti a metà del 2024, che poi provvederanno a testarlo a fondo.
"MAN sta accelerando la sua trasformazione e compiendo grandi passi verso sistemi di trazione senza emissioni", ha commentato Alexander Vlaskamp, Chairman of the Executive Board di MAN Truck & Bus. "L'obiettivo di MAN e del Gruppo TRATON è concentrato sui sistemi a batteria che costituiscono la base per i nostri e-­truck per impieghi pesanti, che lanceremo a partire dal 2024. Poi, solo quando saranno disponibili sufficienti quantità di idrogeno verde e l'infrastruttura corrispondente, ben dopo il 2030, prevediamo di utilizzare camion H2 in aree di applicazione selezionate. Questo è il motivo per cui stiamo studiando le opportunità offerte dall'idrogeno e il finanziamento dello stato della Baviera ci consente di sviluppare ulteriori competenze nel campo".
Infine, come già ribadito dall'AD, MAN vede l'offerta di eConsulting (consulenza dedicata) come essenziale per favorire il passaggio dei clienti a veicoli privi di combustibili fossili, al fine di rendere facile per gli utenti un trasporto sostenibile. Per una conversione di successo della flotta da diesel a BEV, è necessaria un'analisi olistica delle esigenze dei clienti molto prima dell'acquisto di un camion elettrico. Dopo la decisione d'acquisto di un eTruck, il servizio di eConsulting gestirà quindi la fase operativa, compresa l'ottimizzazione dei costi, l'analisi del percorso e l'ottimizzazione della flotta e dell'infrastruttura di ricarica.