Gruppo Sanpellegrino, con Koiné e Scania l'acqua minerale viaggia solo sull'LNG
Il Gruppo Sanpellegrino rafforza il proprio impegno per la sostenibilità ambientale utilizzando da fine gennaio una nuova flotta costituita al 100 per cento da veicoli alimentati a LNG per il trasporto dell'acqua minerale dallo stabilimento di Ruspino all'hub di Madone dal quale l'acqua, ambasciatrice del gusto e simbolo dell'eccellenza italiana sulle tavole di tutto il mondo, […]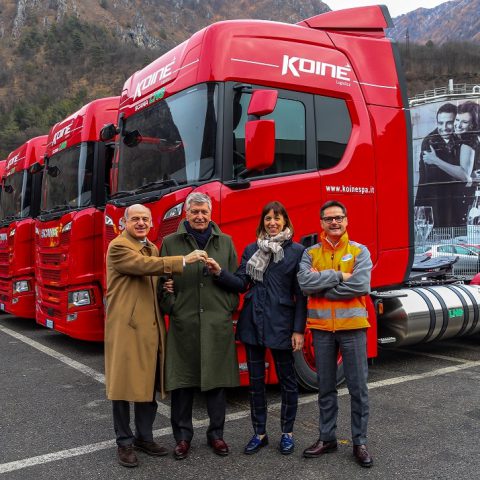 Il Gruppo Sanpellegrino rafforza il proprio impegno per la sostenibilità ambientale utilizzando da fine gennaio una nuova flotta costituita al 100 per cento da veicoli alimentati a LNG per il trasporto dell'acqua minerale dallo stabilimento di Ruspino all'hub di Madone dal quale l'acqua, ambasciatrice del gusto e simbolo dell'eccellenza italiana sulle tavole di tutto il mondo, viene distribuita in oltre 150 Paesi.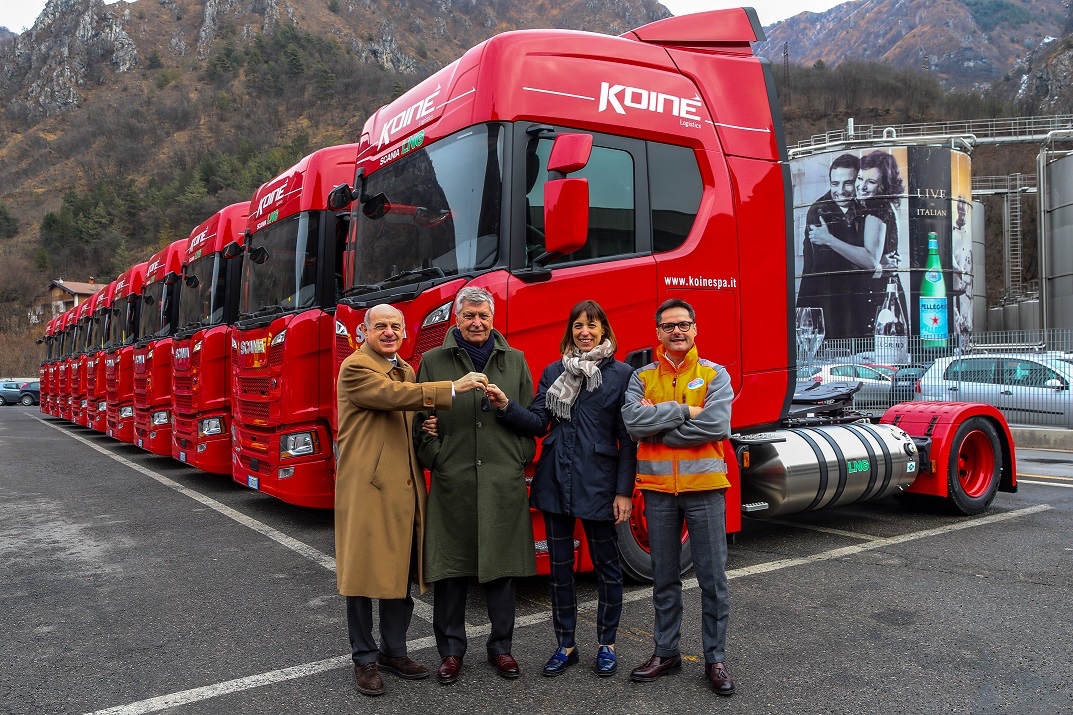 Grazie all'LNG, da fine gennaio Sanpellegrino dispone di una flotta di camion a basso impatto ambientale che sostituisce integralmente i mezzi utilizzati finora per il navettaggio dell'acqua S.Pellegrino. Un progetto innovativo, realizzato con il supporto logistico del Gruppo Koiné e la tecnologia dei veicoli Scania, che permette al brand di tagliare un nuovo importante traguardo nel segno della sostenibilità.
Le chiavi della flotta a LNG sono state consegnate simbolicamente a Maura Sartore, Head of Supply Chain South Europe Nestlé Waters, e Duccio Sbriglione, Direttore dello stabilimento Sanpellegrino di Ruspino, da Andrea Toccafondi, Presidente Koinè, alla presenza di Giuliano Ghisalberti, Sindaco di Zogno, Vittorio Milesi, Sindaco di San Pellegrino Terme, Franco Fenoglio, Presidente e Amministratore Delegato Italscania, Licia Balboni, Presidente Federmetano e Andrea Fossa, Direttore Scientifico dell'Osservatorio Contract Logistics 'Gino Marchet' del Politecnico di Milano, protagonisti oggi a Zogno di una tavola rotonda sulla logistica sostenibile.
Gruppo Sanpellegrino, una logistica sostenibile come valore aggiunto
"Il progetto LNG, sviluppato in collaborazione con il nostro partner logistico Koinè, è un importante tassello che si inserisce tra le attività sviluppate dal Gruppo Sanpellegrino per valorizzare l'acqua minerale e il territorio in cui sgorga, con continui investimenti nel campo dell'innovazione e politiche di sviluppo sostenibile volte a favorire la riduzione dell'impatto ambientale – ha dichiarato Maura Sartore, Head of Supply Chain del Gruppo Sanpellegrino – Siamo quindi orgogliosi di utilizzare una flotta di veicoli alimentati con un combustibile innovativo per il navettaggio dell'acqua S.Pellegrino, una scelta che ci consentirà di rendere il nostro business sempre più sostenibile risparmiando l'emissione di oltre 500 tonnellate di anidride carbonica nel corso del prossimo anno".
"Koinè da sempre è impegnata in un continuo processo di miglioramento che, in linea con il Codice Etico aziendale, coinvolge anche la sostenibilità e l'impatto ambientale della propria flotta – ha dichiarato Andrea Toccafondi, Presidente Koinè – Inoltre, i nostri committenti sono sempre più attenti all'impiego delle nuove tecnologie in ottica di trasporto sostenibile. Per questi motivi è maturata la decisione di investire nell'innovazione tecnologica della flotta, con l'introduzione di un considerevole numero di veicoli alimentati da LNG".
"Il progetto LNG sviluppato dal Gruppo Sanpellegrino con Koinè sottolinea ancora una volta l'importanza di adottare un approccio rivoluzionario al tema della sostenibilità e la necessità di agire insieme, a livello di ecosistema, per accelerare la transizione verso un sistema di trasporto sostenibile – ha evidenziato Franco Fenoglio, Presidente e Amministratore delegato di Italscania – Questo è il momento di agire e di mettere in atto progetti e azioni concrete per dare delle risposte reali alle importanti aspettative rivolte al settore dei trasporti, chiamato a ridurre in maniera sostanziale e al più presto il proprio impatto nei confronti del clima e dell'ambiente. Abbiamo grandi responsabilità nei confronti delle generazioni future, responsabilità che vogliamo trasformare nell'opportunità di mettere in atto un vero e proprio cambiamento grazie a soluzioni di trasporto disponibili 'Qui e adesso'. In questo senso, i veicoli a LNG rappresentano una soluzione estremamente interessante per il mercato italiano, soprattutto alla luce della riduzione di CO2, dell'autonomia garantita e delle prestazioni paragonabili a quelle offerte dai motori a diesel".