Anche Pesaro ha la sua stazione LNG. È la prima 'made by' Snam4Mobility
Venerdì 16 novembre è stata inaugurata a Pesaro una nuova stazione LNG ad opera di Acema, azienda specializzata nella distribuzione di prodotti petroliferi, in collaborazione con il partner internazionale Snam4Mobility che ha realizzato l'infrastruttura. Protagonisti della cerimonia di inaugurazione Lorenzo Ponselè, Amministratore Delegato di Acema, Andrea Ricci, Senior Vice President di Snam4Mobility, Massimiliano Naso, responsabile Vendite Italia […]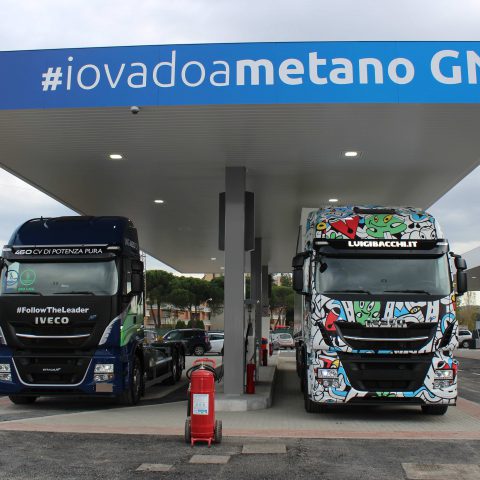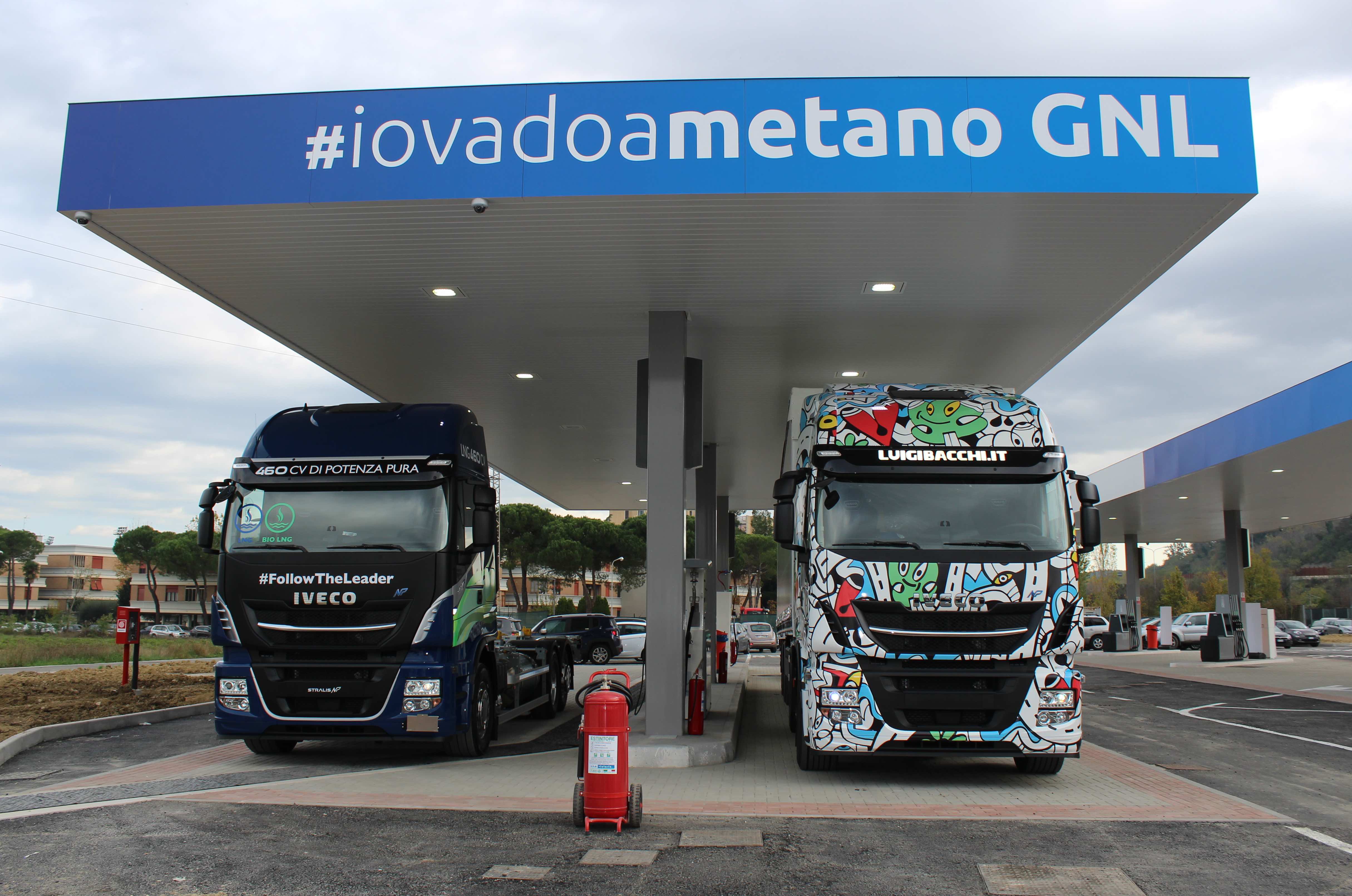 Venerdì 16 novembre è stata inaugurata a Pesaro una nuova stazione LNG ad opera di Acema, azienda specializzata nella distribuzione di prodotti petroliferi, in collaborazione con il partner internazionale Snam4Mobility che ha realizzato l'infrastruttura.
Protagonisti della cerimonia di inaugurazione Lorenzo Ponselè, Amministratore Delegato di Acema, Andrea Ricci, Senior Vice President di Snam4Mobility, Massimiliano Naso, responsabile Vendite Italia Grandi clienti e GNL di Liquigas, Alessandro Oitana, Business Line Medium & Heavy Manager di Iveco e Matteo Ricci, sindaco di Pesaro.
Sale in cattedra Snam4Mobility: è solo l'inizio!
L'impianto, il ventinovesimo sul territorio italiano nonché il primo della città in grado di erogare LNG per mezzi pesanti e L-CNG, un particolare tipo di metano più performante perché derivato dal metano liquefatto, per l'alimentazione delle auto, è destinato a modificare radicalmente la mobilità dell'intera area circostante. Tramite una condotta sottostradale, il gas metano per le auto sarà distribuito anche nella stazione di servizio a marchio Oilone già funzionante, ubicata nella direttrice opposta. La fornitura del prodotto sarà garantita ad Acema da Liquigas, la società leader in Italia nella distribuzione di LNG per uso industriale e autotrazione.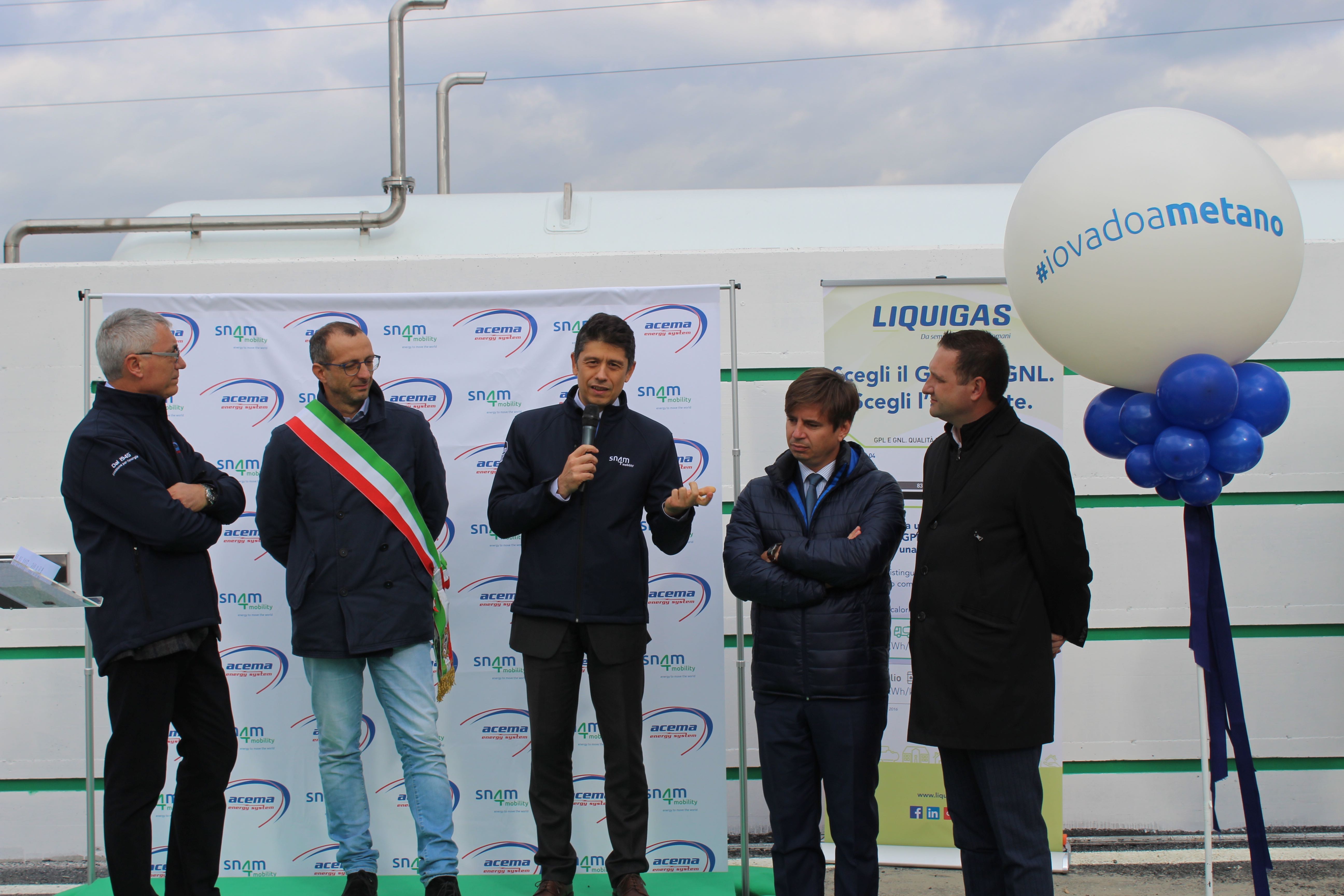 Snam4Mobility, società controllata da Snam protagonista in qualità di operatore infrastrutturale, ha realizzato il moderno complesso mettendo in luce un know-how di primissimo livello. Quello di Pesaro rappresenta il primo impianto realizzato da Snam4Mobility ed entro la vicina fine del 2018 ne verranno inaugurati ben sei. Secondo quanto rivelato dal Senior Vice President Andrea Ricci, oltre alle nuove stazioni di rifornimento, Snam4Mobility si appresta a realizzare quattro innovativi impianti di liquefazione in Italia, che permetteranno di concentrare direttamente nel nostro Paese sia il metano convenzionale che il biometano, aumentando l'efficienza dell'intera filiera.
Il 'Sustainable Truck of the Year 2019' vestito a festa
Iveco era presente all'evento con due Stralis NP 460, una motrice e un trattore stradale con speciale livrea disegnata dall'estroverso designer Andrea Lensi, messi a disposizione dalla Luigi Bacchi, la concessionaria Iveco di riferimento della zona, per effettuare il primo rifornimento di carburante.
Al termine del rifornimento Alessandro Oitana, Business Line Medium & Heavy Manager di Iveco, ha dichiarato: "Solo cinque anni fa Iveco proponeva al mercato i primi Stralis alimentati a gas naturale. Siamo partiti da un prototipo per approdare, oggi, ad un numero di quasi 1.200 unità vendute. Un progetto ambizioso che ogni giorno ci offre grandi soddisfazioni, non ultimo il premio 'Sustainable Truck of the Year 2019', vinto dal nostro Stralis NP460, il veicolo alimentato a gas naturale più sostenibile di sempre. Quello che agli occhi di molti era un obiettivo visionario, oggi è realtà".