FutureLab, la Stella indica il cammino verso il camion del futuro
Eseguire calcoli complessi relativi ai consumi di un camion moderno con pochi e semplici clic del mouse, configurare personalmente per la prima volta la plancia del truck del futuro con una matita da disegno e l'ausilio di un computer, oppure confrontarsi con esperti in merito alle tecnologie di propulsione alternative ed ai concetti legati alla logistica: […]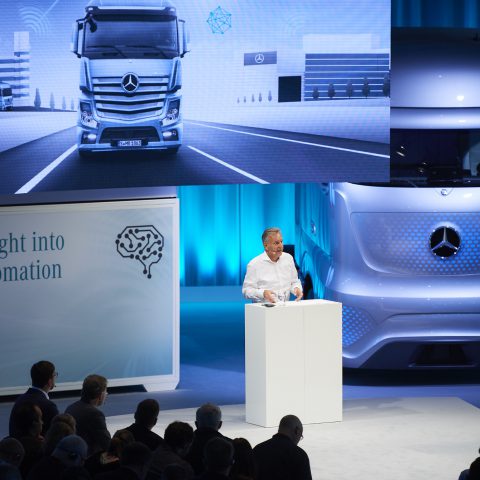 Eseguire calcoli complessi relativi ai consumi di un camion moderno con pochi e semplici clic del mouse, configurare personalmente per la prima volta la plancia del truck del futuro con una matita da disegno e l'ausilio di un computer, oppure confrontarsi con esperti in merito alle tecnologie di propulsione alternative ed ai concetti legati alla logistica: in occasione del 'FutureLab@Mercedes-Benz Trucks', svoltosi presso il Branchen-Informations-Center (BIC) dello stabilimento di Wörth, anche noi di Vado e Torno eravamo tra i 100 giornalisti internazionali del settore selezionati che hanno avuto in esclusiva la possibilità di dare uno sguardo dietro le quinte dell'attività di sviluppo della Stella.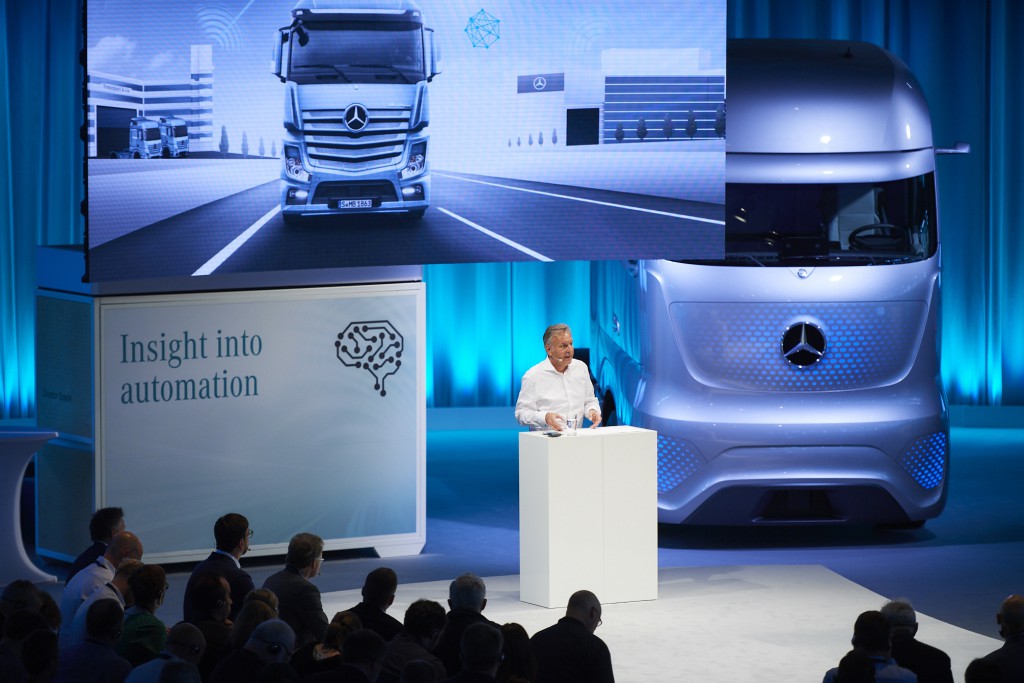 Ben sette workshop hanno offerto l'opportunità di approfondire e valutare una serie di soluzioni che sono state concepite per affrontare le crescenti sfide legate al trasporto delle merci su strada. Tra i temi principali trattati, l'inarrestabile processo di digitalizzazione, le alternative al diesel, gli innovativi sistemi di sicurezza e guida autonoma e l'influenza delle legislazione in materia.
'FutureLab', tante le sfide all'orizzonte
Stefan Buchner, membro del Divisional Board Daimler Trucks e Responsabile di Mercedes-Benz Trucks, ha evidenziato nel suo discorso quali sono gli obiettivi della Stella: "Abbiamo inventato i veicoli industriali ed intendiamo continuare a rappresentare il punto di rifermento per quanto riguarda il suo ulteriore sviluppo. Il truck del futuro sarà in grado di rispondere a molte questioni rimaste ancora aperte. Sarà più efficiente, più sicuro e più performante che mai oltre che dotato di nuove tecnologie e sistemi volti a supportare i nostri clienti nello svolgimento della loro attività quotidiana. Ma soprattutto si farà apprezzare per la sua intelligenza ed i valori intrinseci. Se oggi pensiamo a un nuovo truck, prendiamo in considerazione innanzitutto le specifiche interiori: come possiamo collegare in rete le sue sinapsi? Come possiamo affinare i suoi sensi? Per contro, non ci curiamo molto del suo aspetto esteriore, a meno che non riusciamo a migliorare anche le sue prestazioni grazie proprio ad un diverso design".
Steffen Kaup, Head of the Transport and Logistics Future Research team di Daimler AG, si è proiettato in avanti di diversi decenni, introducendo una visione più ampia nell'ambito dell'evento: "Il settore del trasporto merci a livello internazionale sta attraversando un profondo e radicale cambiamento. Noi di Mercedes-Benz Trucks ci stiamo, pertanto, preparando a tutti i livelli. Le nuove tecnologie e la trasformazione digitale creeranno nuovi settori di business nel giro di brevissimo tempo. Il volume delle merci in costante crescita in presenza di una sempre maggiore pressione in termini di tempi e costi rappresenta, a sua volta, una delle principali sfide per tutti gli attori coinvolti. Anche le reti stradali finiscono per mostrare i propri limiti sul fronte prestazioni. Per non parlare dei valori limite delle emissioni sempre più severi previsti per legge che richiedono un costante impegno ed attenzione da parte dei costruttori e dei fornitori di servizi nel campo della logistica".
[fusion_builder_container hundred_percent="yes" overflow="visible"][fusion_builder_row][fusion_builder_column type="1_1″ background_position="left top" background_color="" border_size="" border_color="" border_style="solid" spacing="yes" background_image="" background_repeat="no-repeat" padding="" margin_top="0px" margin_bottom="0px" class="" id="" animation_type="" animation_speed="0.3″ animation_direction="left" hide_on_mobile="no" center_content="no" min_height="none"][fusion_tagline_box backgroundcolor="" shadow="no" shadowopacity="0.1″ border="1px" bordercolor="" highlightposition="top" content_alignment="left" link="http://www.vadoetorno.com/abbonamenti/" linktarget="_blank" modal="" button_size="xlarge" button_shape="square" button_type="flat" buttoncolor="" button="ABBONATI SUBITO" title="Scopri di più" description="L'approfondimento sul prossimo numero della rivista Vado e Torno" animation_type="0″ animation_direction="down" animation_speed="0.1″ class="" id=""][/fusion_tagline_box]
[/fusion_builder_column][/fusion_builder_row][/fusion_builder_container]